April 30, 2021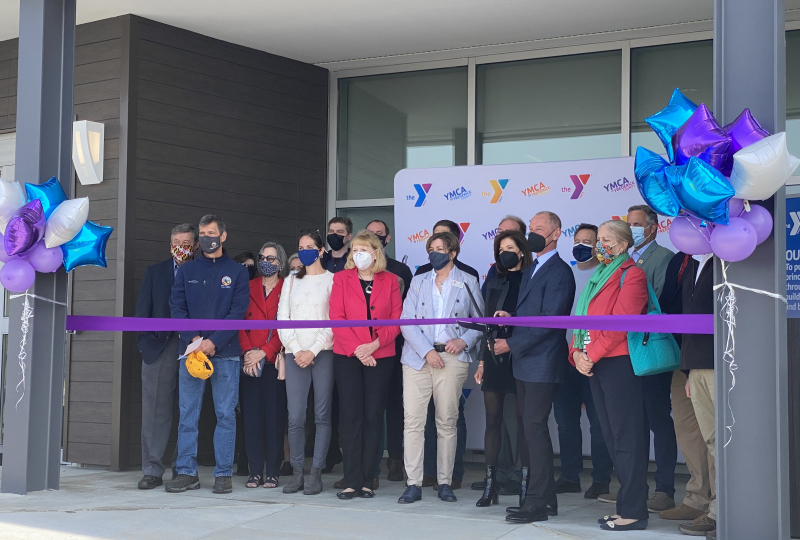 A Ribbon Cutting Ceremony was held for Morgan-Keller's South County Family YMCA project in Urbana, MD on Saturday, April 24th. The new 62,000 SF facility includes an aquatics complex, grand lobby, wellness center, large gymnasium, indoor walking/running track, intergenerational space for active older adults, kids' family adventure center, group exercise studios, locker rooms, and multipurpose athletic fields. The ceremony included a formal announcement that the facility would be renamed the Natelli Family YMCA in honor of the Natelli family that donated the $8.5 million plot of land for the project.
In attendance for the ceremony were donors, YMCA staff, Tom Natelli of Natelli Communities (land donor), and elected officials including Senator Ronald Young, Senator Michael Hough, and Frederick County Executive Jan Gardner. Representatives from the project team were in attendance as well including JRL Construction Management, Morgan-Keller Construction, Zavos Architecture+Design, Harris Smariga, Specialized Engineering, GRO Development, and more.
"Morgan-Keller is proud to have been part of this great project that will have a positive impact on our community. This new facility will be enjoyed by Frederick County residents for years to come and we are glad that we could help bring it to fruition," said Taylor Davis, Vice President and General Manager of Morgan-Keller Construction.