April 4, 2017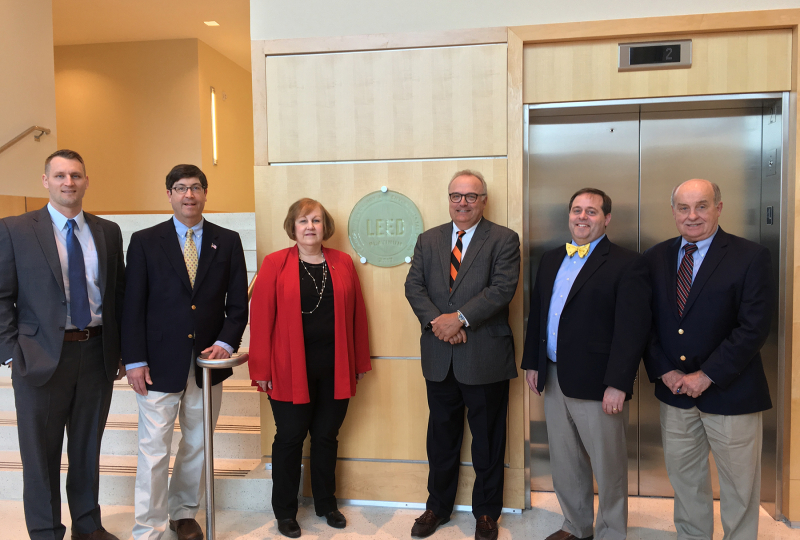 The American Public University System (APUS) Finance Center recently attained LEED (Leadership in Energy and Environmental Design) Platinum Certification, the highest green rating achievable. LEED is an internationally recognized green building certification system developed by the US Green Building Council (USGBC).

Designed by MSB Architects of Hagerstown, MD and built by Morgan-Keller Construction of Frederick and Columbia, MD, this project involved the conversion of an existing one-story warehouse into a 100,000 SF, three-story, Class A office building with new foundations, structural components, exterior finishes, and roof. The award-winning project, completed in September 2012, included the addition of a floating staircase and elevator towers, a grand front entrance, meeting space, a large multi-purpose room for campus wide meetings and events, and open office spaces with raised access flooring.

Over 1,600 solar panels were installed in the adjacent parking lot canopy and provide approximately 20% of the center's energy use. Other green elements include motion-sensor lighting, natural light use including a centrally located circular atrium with skylights, and efficient plumbing fixtures to conserve water.

American Public University System, recipient of the Online Learning Consortium (OLC) Ralph E. Gomory Award for Quality Online Education and five-time recipient of the OLC Effective Practice Award, offers more than 200 online degree and certificate programs through American Military University and American Public University. More than 70,000 alumni worldwide have benefited from APUS's relevant curriculum, affordability, and flexibility in pursuing and earning degrees in such areas as business, information technology, and security and global studies. For further information, visit www.apus.edu.