May 28, 2015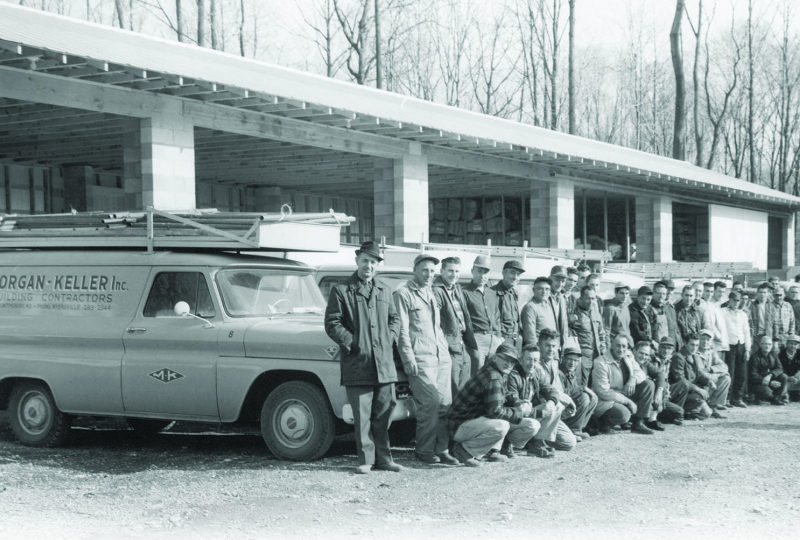 Morgan-Keller Construction is celebrating its 60th Anniversary this year. The company was founded in 1955 as a family-owned business in Wolfsville, Maryland. Ralph Morgan, the first of three generations to own the company, focused on residential, single-family home construction. Ralph's son-in-law, Gail T. Guyton, began working for the company in 1958 and joined the firm full-time in 1962 after graduating from American University. By 1965, Morgan-Keller had begun construction of commercial facilities. Gail Guyton became President of Morgan-Keller in 1980 and decided to discontinue custom residential home construction and concentrate entirely on commercial and industrial construction.
Gail's son, Brad, joined the company in 1983. He held a variety of positions and brought new and innovative ideas to the firm. Darrell Guyton, Gail's younger son, joined Morgan-Keller in 1987.  In 1994, he began his management of the Specialty Contracts Group. This group focuses on fast-track projects under $2 Million. MK Concrete was then created in 1996 to fill an important market niche.  Brad became President and CEO of Morgan-Keller in 1997 and his integrity, strong leadership, and foresight have created a level of confidence reflected in the company slogan: "Our Reputation is Building Every Day." The third-generation owned company has had steady growth over the past twenty years.
Morgan-Keller has offices in Frederick and Columbia, Maryland and the customer base is located within Maryland, the District of Columbia, Virginia, West Virginia, and Pennsylvania. Morgan-Keller looks forward to a promising future of service to our customers.  We thank our clients and team members for helping us achieve this important milestone.